Desert Jet Sponsors Fashion Week El Paseo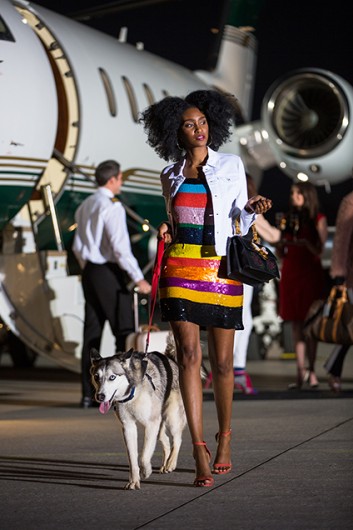 Leading business aviation services company, Desert Jet, is proud to be a sponsor of this year's fashion show extravaganza, Fashion Week El Paseo. The premier fashion event, held on Palm Desert's own "Rodeo Drive", will showcase clothing designers, renowned interior decorators, swimwear stylists and up-and-coming talent in the fashion field.
Many of Fashion Week's guests and leading designers flying into the Jacqueline Cochran Regional Airport in Thermal will experience world-class concierge services from Desert Jet's own executive FBO, Desert Jet Center. Hotel accommodations, executive car service, and even aircraft detailing and refueling are happily arranged for by Desert Jet Center's exceptional and highly responsive staff.
About Desert Jet
Desert Jet is a group of aircraft management, charter, maintenance, FBO and aircraft handling companies based in Palm Springs/Thermal, California (KTRM). Desert Jet is a full-service aviation company providing jet owners with turn-key management of their aircraft – including FBO services, maintenance, and charter revenue that offsets the cost of ownership. Desert Jet's "private car service of the sky" offers private flyers a smart alternative to fractional aircraft ownership. Desert Jet's acquisition service provides aircraft buyers with objective third party oversight throughout all phases of the process, from selecting the right aircraft, projecting operating costs and negotiating the acquisition through pre-purchase inspection, delivery and placing the aircraft into service. Desert Jet Maintenance is an FAA-certified Part 145 Repair Station offering scheduled and unscheduled aircraft maintenance and repair services as well as 24/7 AOG mobile jet services. Desert Jet Center is a brand new, world-class independent FBO serving the needs of the business and general aviation community. The upscale "service station" for aircraft is a Preferred FBO for the Corporate Aircraft Association (CAA) and Citation Jet Pilots Association (CJP) and is a member of the EPIC fuel network. Desert Jet Center is the only FBO in the region to have earned the prestigious IS-BAH safety registration. Desert Jet Center offers hangar space that accommodates aircraft as large as the Gulfstream G650 and Global 6000.
For more information, please visit www.desertjet.com or contact us at (800) 381-JETS.