Desert Jet Receives 5th Consecutive Friendly Flyer Award
Desert Jet, the premier full-service business aviation company based in Greater Palm Springs, California, received its fifth consecutive Friendly Flyer Award presented by the Van Nuys Airport and Los Angeles World Airports (LAWA).
Each year the Friendly Flyer Award is presented to jet operators that meet or exceed the VNY noise abatement program criteria during the award year. The voluntary Fly Friendly/Quiet Departure Program for jet aircraft was first established at VNY in 1994 to address the community's concerns regarding jet aircraft noise in neighboring areas.  LAWA created the "Friendly Flyer" award in 2012 to acknowledge operators who complied with all noise abatement policies and procedures and had the highest level of success in adhering to the voluntary No Early Turn and Fly Friendly/Quiet Departure Programs.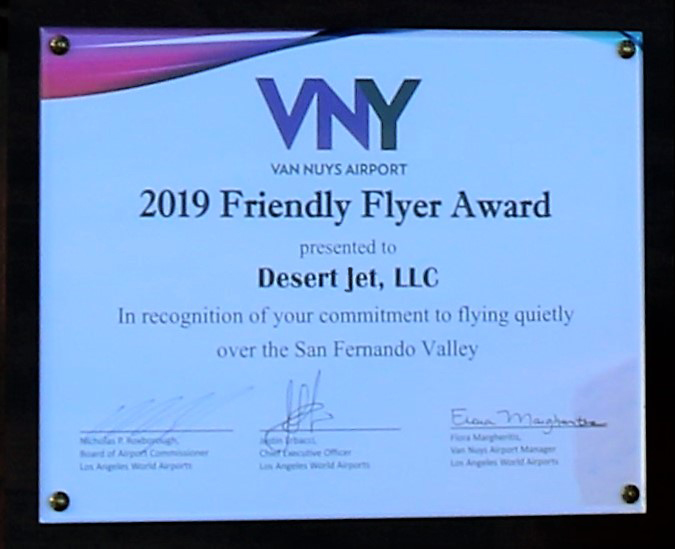 "We appreciate the recognition by the Van Nuys Airport and LAWA of Desert Jet's commitment to flying friendly in the San Fernando Valley," said Jared Fox, Desert Jet CEO. "Receiving this award for five consecutive years demonstrates our pilots' professionalism and high regard to being a good neighbor to the local communities surrounding the airports they visit."
About Desert Jet
Desert Jet is a group of aircraft management, charter, maintenance, and FBO companies based in Palm Springs/Thermal, California (KTRM). Desert Jet is a full-service aviation company providing jet owners with turn-key management for their aircraft.
Desert Jet's on-demand charter offers private flyers a smart alternative to fractional aircraft ownership and expensive membership programs. Committed to safety and service, Desert Jet is ARGUS Platinum rated, Wyvern Wingman certified, and IS-BAO Stage 3 registered.
Desert Jet Maintenance is an FAA-certified Part 145 Repair Station offering scheduled and unscheduled aircraft maintenance and repair services to a wide variety of aircraft.
Desert Jet Center is a world-class independent FBO serving the needs of the business and general aviation community at the Jacqueline Cochran Regional Airport (KTRM). The brand new 32,500-square-foot executive facility features a state-of-the-art, modern terminal and the only air-conditioned hangar in the entire Coachella Valley. Desert Jet Center is the only FBO in the Southwest Region to have earned both IS-BAH safety registration (Stage 2) and NATA Safety 1st certification and is NATA Safety 1st Clean certified. Desert Jet Center offers hangar space that accommodates aircraft as large as the Gulfstream G650 and Global 7000.
For more information about our services, visit www.desertjet.com or call (800) 381-JETS.