Desert Jet Enters New Chapter, Poised For Growth Under New CEO Jared Fox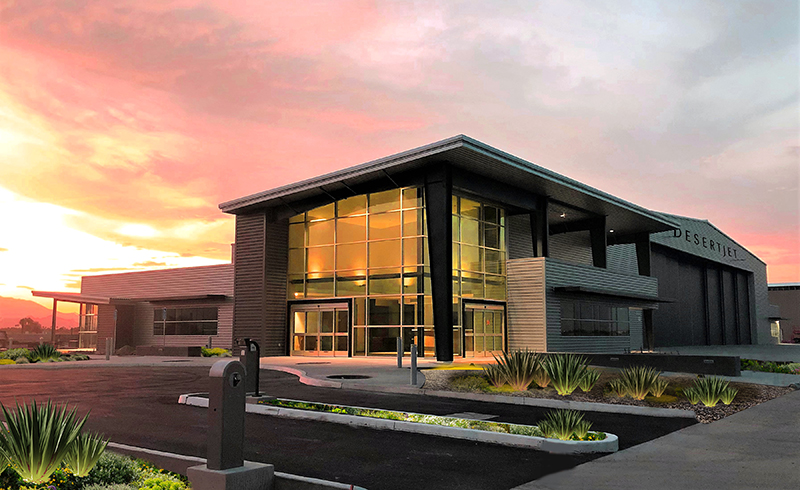 Desert Jet, a leading full-service business aviation company based in the Palm Springs area has begun its next phase of growth under the leadership of its recently appointed CEO, Jared Fox. Desert Jet enters the area's peak season with a brand-new state-of-the-art FBO facility, the addition of another light jet to its charter fleet, a newly launched customer loyalty program, and an expanded team of experienced aviation professionals dedicated to safety and anticipatory service.
Desert Jet proudly announces the completion of its highly anticipated executive FBO, Desert Jet Center, at the Jacqueline Cochran Regional Airport (KTRM) in Palms Springs/Thermal, California. The brand-new $7 million-dollar cutting-edge facility brings a whole new look and elevated experience to the popular tourist destination, and forever changes the landscape of the busy airport.
The 32,500-square-foot FBO facility features an upscale terminal with floor-to-ceiling windows, state-of-the-art amenities, gorgeous observation deck and the only air-conditioned aircraft hangar in the entire Palm Springs and Coachella Valley. Its 22,500-square-foot hangar has 28-foot hangar doors to easily accommodate aircraft as large as the Gulfstream G650 and Global 7500.
On-site aircraft maintenance provided by an FAA certified Part 145 repair station plus complete aircraft detailing offers extended services available only at the Desert Jet Center at KTRM. Additionally, the FBO recently launched its new Customer Loyalty Program, providing loyal customers the 5-star customer service they are accustomed to receiving with new additional cost savings. The program continues to see phenomenal growth in membership.
Desert Jet is also announcing the upgrade to its jet charter fleet of Cessna Citation CJ3 aircraft with the installation of the GOGO L3 Avance high-speed Wi-Fi. The installation will be completed just as the busy flying season begins for the company and will be free of charge to charter customers.
Addressing the improvements at the company, CEO Jared Fox stated, "It is an exciting time for all the Desert Jet companies. We are experiencing tremendous growth in the Coachella Valley and Palm Springs area, with that comes higher demand for our aviation services. Desert Jet is poised to meet the increased demand with our brand-new facilities, additional jets and new executive team."
Fox adds, "Desert Jet has long been an oasis for exemplary service. Our recent additions will ensure we can continue to deliver for our customers and employees. With these new pieces in place, we will be able to capitalize on additional opportunities in the region while maintaining the values that brought us to where we are today."
Plans to host a spectacular Grand Opening event for the opening of Desert Jet Center's brand-new FBO facility are underway. For more information, contact info@desertjet.com.
About Desert Jet
Desert Jet is a group of aircraft management, charter, maintenance, FBO and aircraft handling companies based in Palm Springs/Thermal, California (KTRM). Desert Jet is a full-service aviation company providing jet owners with turn-key management of their aircraft that offsets the cost of ownership.
Desert Jet's "private car service of the sky" offers private flyers a smart alternative to fractional aircraft ownership and expensive membership programs. Desert Jet's acquisition service provides aircraft buyers with objective third-party oversight throughout all phases of the process, from selecting the right aircraft, projecting operating costs and negotiating the acquisition through pre-purchase inspection, delivery and placing the aircraft into service.
Desert Jet Maintenance is an FAA-certified Part 145 Repair Station offering scheduled and unscheduled aircraft maintenance and repair services as well as 24/7 AOG mobile jet services to a wide variety of aircraft.
Desert Jet Center is a world-class independent FBO serving the needs of the business and general aviation community at the Jacqueline Cochran Regional Airport (KTRM). It's brand new 32,500-square-foot executive facility features a state-of-the-art, modern terminal and the only air-conditioned hangar in the entire Coachella Valley. Desert Jet Center is a Preferred FBO by the Citation Jet Pilots Association (CJP) and Angel Flight West, a non-profit organization. Desert Jet Center is the only FBO in the region to have earned the prestigious IS-BAH safety registration and the NATA Safety 1st qualification. Desert Jet Center offers hangar space that accommodates aircraft as large as the Gulfstream G650 and Global 7500.
For more information about our services, visit www.desertjet.com or call (800) 381-JETS.