Desert Jet Launches Artist Series at its Brand New Executive FBO Facility in the Coachella Valley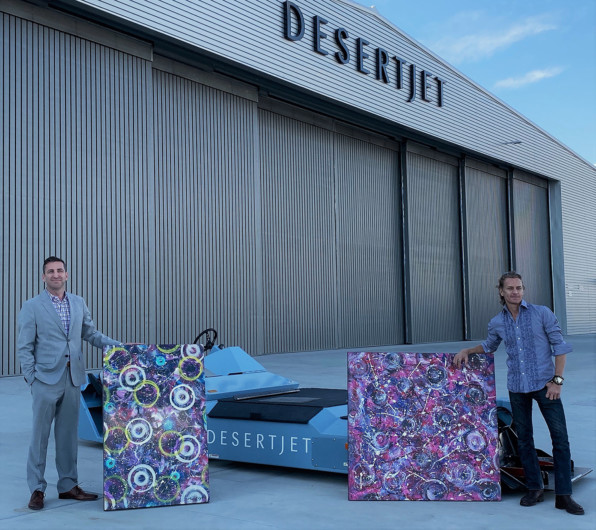 Desert Jet, a leading full-service business aviation company based in the Palm Springs area, is bringing vibrancy to the Jacqueline Cochran Regional Airport (KTRM) in the Coachella Valley with the launch of its new artist series.
Each quarter, Desert Jet will feature a local artist and display his/her art collection throughout the company's brand new, cutting-edge FBO (Fixed Base Operator) facility, Desert Jet Center. The exhibition will transform the modern lobby into a gallery for travelers to peruse and enjoy. From abstract and impressionism to modern and contemporary, the fine art paintings and sculptures will bring refinement and style defined by each artist featured.
Launching the artist series is abstract artist, Michael Lydon. Since childhood, Lydon has been very enthusiastic about artistic expression, cars, and the California lifestyle. At the age of 27, he migrated to Los Angeles, California, to make his mark in the artworld. Lydon had a natural talent for sketching and painting without training and discovered his trailblazing unique approach in applying paint to the canvas just a few years before moving out west.
Over the last few decades, Lydon's pieces have satisfied the pallet of serious art collectors, celebs and art lovers from coast to coast. He has auctioned his Pollack-like masterpieces at Bonham's & Butterfields, shown in galleries, and has graced dozens of Beverly Hills A-list celebrity charity events where he auctioned his works to raise awareness and funds for causes close to his heart.
Michael Lydon's collection is now on exhibit and is available for purchase. His unique art pieces will also be featured at Desert Jet Center's Grand Opening Celebration event to be held in the next coming months. Philanthropic by nature, Lydon has opted to donate a portion of his proceeds from any sale of his paintings to Angel Flight West, a non-profit, volunteer-driven aviation organization that arranges free, non-emergency air travel for children and adults with serious medical conditions and other compelling needs.
"Much like aviation, art has always been an inspiration," said Jared Fox, Desert Jet Chief Executive Officer. "It's great that we can bring two inspiring genres together to meet at the new Desert Jet Center. We look forward to providing a resource for local artists to showcase their work and skills while also creating a unique gallery-esque environment for our guests. We are surrounded by great artists in the Palm Springs area, it felt natural to open up our FBO to their work."
About Desert Jet
Desert Jet is a group of aircraft management, charter, maintenance, FBO and aircraft handling companies based in Palm Springs/Thermal, California (KTRM). Desert Jet is a full-service aviation company providing jet owners with turn-key management of their aircraft that offsets the cost of ownership.
Desert Jet's "private car service of the sky" offers private flyers a smart alternative to fractional aircraft ownership and expensive membership programs. Desert Jet's acquisition service provides aircraft buyers with objective third-party oversight throughout all phases of the process, from selecting the right aircraft, projecting operating costs and negotiating the acquisition through pre-purchase inspection, delivery and placing the aircraft into service.
Desert Jet Maintenance is an FAA-certified Part 145 Repair Station offering scheduled and unscheduled aircraft maintenance and repair services as well as 24/7 AOG mobile jet services to a wide variety of aircraft.
Desert Jet Center is a world-class independent FBO serving the needs of the business and general aviation community at the Jacqueline Cochran Regional Airport (KTRM). It's brand new 32,500-square-foot executive facility features a state-of-the-art, modern terminal and the only air-conditioned hangar in the entire Coachella Valley. Desert Jet Center is a Preferred FBO by the Citation Jet Pilots Association (CJP) and Angel Flight West, a non-profit organization. Desert Jet Center is the only FBO in the region to have earned the prestigious IS-BAH safety registration and the NATA Safety 1st certification. Desert Jet Center offers hangar space that accommodates aircraft as large as the Gulfstream G650 and Global 7000.
For more information about our services, visit www.desertjet.com or call (800) 381-JETS.