AIN FBO Survey Names Desert Jet Center at KTRM A Top Rated FBO in the Americas and #1 FBO in Palm Springs
Desert Jet Center
, the desert's newest and highest customer-rated Fixed Base Operator (FBO) located at the Jacqueline Cochran Regional Airport (KTRM) in Thermal, California, is extraordinarily proud to announce it has been named among the Top Rated FBOs in the Americas and rated #1 FBO in Palm Springs, CA, for the second consecutive year in the coveted annual Aviation International News (AIN) FBO Survey.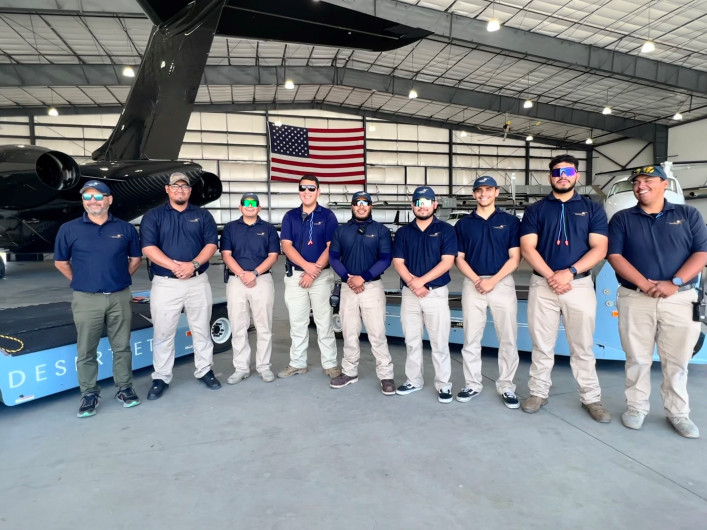 The results of the 2023 FBO survey taken by AIN subscribers and those frequenting FBOs globally over the past year also named Desert Jet Center's Line Service Technicians #2 in all the Americas, with Guest Service Manager Melina Verdugo noted among a few select individuals in the Above & Beyond category.
The AIN annual survey rates five categories: line service, passenger amenities, pilot amenities, facilities, and CSRs (Customer Service Representatives). FBOs must demonstrate consistency in all categories to place at the top of the survey.
"It's very exciting to be acknowledged as one of the top-rated FBOs in the Western Region for a second year," said Desert Jet Center General Manager Roman Mendez. "Our team takes tremendous pride in providing a special experience for each of our guests, and it's inspiring to receive such overwhelming support back from them. I am honored to work with such a great team and thrilled they are recognized in such a notable publication like AIN. Thank you to everyone who voted for us!"
"I could not be more proud of the entire FBO team for the effort and professionalism demonstrated at KTRM," said Desert Jet CEO Jared Fox. "We set the goal of being the best FBO in the world and continue to work towards achieving that objective. It is a real honor to have our hard work and dedication recognized by the great pilots, aviation professionals, and travelers that use Desert Jet Center when visiting the Coachella Valley."
Desert Jet Center is the gateway to the Coachella Valley. Its stunning executive terminal and hangar facility, incomparable service delivery, modern amenities, focus on safety, and on-site extended aviation services enable the FBO to continue its commitment to elevating the customer experience.
Click the link to read the full article.
About Aviation International News (AIN)
Founded in 1972, Aviation International News is an independent media company focused on the aviation sector. Their stated mission is "To provide timely, accurate and balanced aviation and aerospace news, analysis and data around the world." They accomplish this mission by employing a dedicated staff of experts in their respective fields. They adhere to strict guidelines of ethics and good practices, a policy that has made AIN Publications one of the most trusted sources for aviation news in the world.
About Desert Jet Center
Desert Jet Center is a world-class independent FBO serving the needs of the business and the general aviation community at the Jacqueline Cochran Regional Airport (KTRM). The brand new 32,500-square-foot executive facility features a state-of-the-art, modern terminal and the only temperature-controlled hangar in the entire Coachella Valley.
Desert Jet Center is located in the Coachella Valley, Southern California's resort destination. The FBO is at the closest airport to the preeminent Coachella and Stagecoach music and arts festivals, polo grounds, and world-class golf courses such as the PGA West, Quarry, Madison Club, Griffin Ranch, and Hideaway, the Thermal Motorsports Club, BMW Performance Center, and Desert Horse Park.
Desert Jet Center is NATA Safety 1st certified and designated a NATA Safety 1st Clean location. It is the CAA and CJP Preferred FBO at KTRM.
About Desert Jet
Desert Jet is a group of aircraft management, charter, maintenance, and FBO companies based in Palm Springs/Thermal, California (KTRM). Desert Jet is a full-service aviation company providing jet owners with turn-key management for their aircraft.
Desert Jet's on-demand charter offers private flyers a smarter alternative to fractional aircraft ownership and expensive membership programs. Desert Jet is committed to safety and security and is ARGUS Platinum rated, Wyvern Wingman certified, and IS-BAO Stage 3 registered.
Desert Jet Maintenance is an FAA-certified Part 145 Repair Station offering scheduled and unscheduled aircraft maintenance and repair services to a wide variety of aircraft.
For more information about our services, visit www.desertjet.com or call (800) 381-JETS.