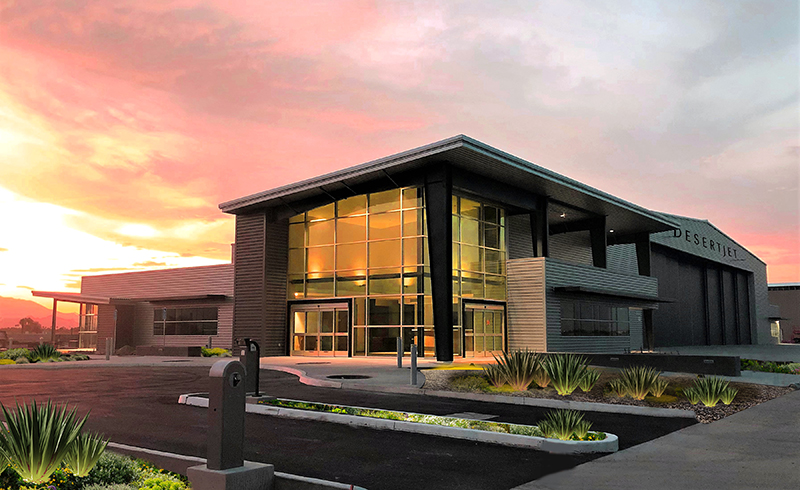 Desert Jet Center is honored to be named among the Top Rated Fixed Base Operators (FBOs) in the Americas and rated #1 FBO in Palm Springs, CA, for the second consecutive year. The brand-new, cutting-edge, designed Executive FBO facility at the Jacqueline Cochran Regional Airport in Palm Springs/Thermal, California (KTRM) serves as the Gateway to the Coachella Valley for travelers flying into Greater Palm Springs!
The 32,500-square-foot FBO facility features an upscale terminal with floor-to-ceiling windows, state-of-the-art amenities, a gorgeous observation deck, and the only temperature-controlled aircraft hangar in the entire Palm Springs and Coachella Valley.
Desert Jet Center brings a new upscale look to the airport and a level of service that was once a tradition in the executive aircraft handling industry. Desert Jet Center's line service technicians are among the highest rated nationally and ranked #2 Line Service in the Americas.
Desert Jet Center is the first and only truly full-service FBO in the Palm Springs area, offering ground handling, ramp parking, fuel, hangar, aircraft detailing, maintenance, aircraft acquisitions, sales, management, and charter.
Our location is the closest arrival point for La Quinta home and club communities such as PGA West, the Quarry, Madison Club, Griffin Ranch, and the Hideaway.  We are also the closest airport for events at the Empire Polo Grounds, such as the Coachella Valley Music and Arts Festival.  We are within a mile or two of the Thermal Motorsports Club, the BMW Performance Center and the Desert International Horse Park.
We are located at the best location on the airport, towards the approach end of runway 17, with ramp space that can accommodate aircraft as heavy as a Boeing 757, with direct access to/from runway 17/35.  Our brand new state-of-the-art 22,500-square-foot hangar, the only temperature-controlled hangar in the desert, will accommodate aircraft as large as the Gulfstream G650 and Global 7000.
Desert Jet Center has a solid commitment to the safety and security of you and your aircraft. To that end, our FBO team includes NATA Safety 1st trained line service technicians and the only NATA-certified customer service representatives in the Valley. Desert Jet Center is a certified NATA Safety 1st Clean Location.
We have worked diligently over the last year to listen to our guests and provide an anticipatory service experience.  Read what our guests have shared about their experiences at Desert Jet Center;