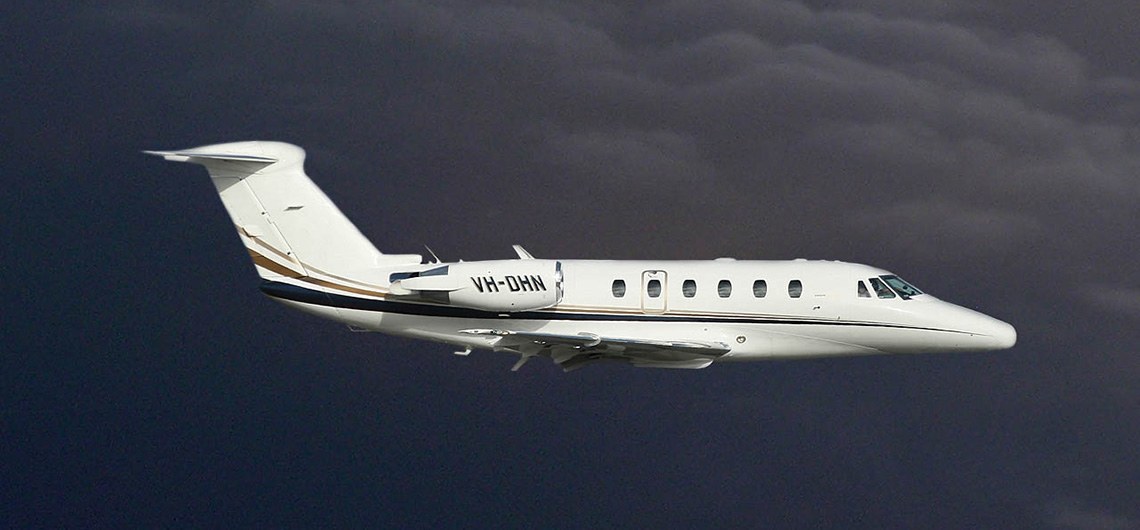 Development of the Cessna Citation III began in 1978, and Cessna took a giant leap forward when they unveiled the Citation III in 1983. It was designed to supplement the much smaller Citation, I and II. It evolved so much differently than other Citation models that the name was the only commonality.
The new design was built around a swept, super-critical wing designed for high speed, long range flight. The Citation III has a newly designed fuselage, and "T" tail. The aircraft structure was designed with light-weight composites wherever possible and smooth-bonded materials to help reduce surface drag. Garrett, TFE731, turbofan engines were selected as the power plant, and were a well proven design derived from heavy airliner, auxiliary power units. The Citation III was a clean sheet design that was produced to compete in the high-performance, long range, mid-size jet category, and compete it did. The Citation III became one of the best-selling, mid-size jets of its era; 202 Citation III aircraft were manufactured in all. This aircraft was designed for speed, and this aircraft is able to travel decent distances very quickly. The Citation III is able to transport 6 passengers, a range of 2,553 miles at cruising speeds of Mach .83, or 543 miles per hour. The Citation III set two records relating to time to climb for its class in 1983, and a class speed record from Gander to Le Bourget in 5 hours and 13 minutes!
Inside the Citation III, passengers enjoy a quiet cabin, spacious seating, a fully enclosed lavatory with a functioning sink, and a "stand-up" cabin. Typical configurations include a 4-place club section with two forward facing seats in the aft cabin, and either a single or two-place divan in the forward cabin. The Citation III is outfitted with plenty of baggage space. With 61 cubic feet of storage, the Citation III is able to accommodate all of your luggage needs for the weekend trip from Palm Springs to Puerto Vallarta and then some.