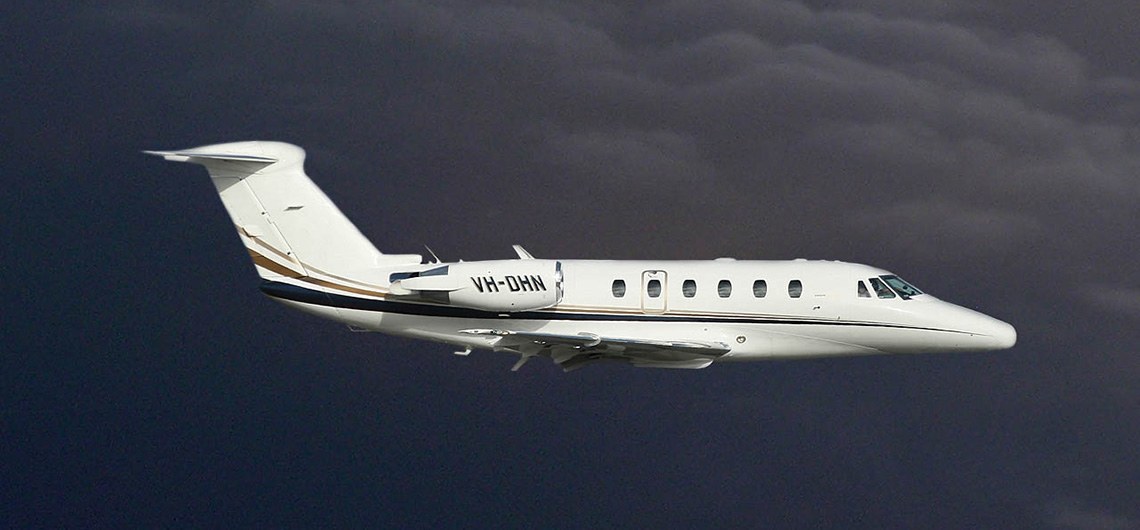 The Citation series jets have been the subject of jokes over the years, referring to their airspeeds, but with an advertised, maximum cruising speed of 552 miles per hour, the Citation VII cruises faster than the speedy, Learjet 45 or 60 models. Upgraded engines were utilized on the Citation VII, permitting operations at high elevation and mountainous airports even during hot weather that would have prevented the Citation III from operating. These engines enable the Citation VII to climb directly to 37,000 feet in just short of 18 minutes!
---
The Citation VII was designed to rival any other aircraft in its class. The Citation VII completion department offered a wide variety of interior options with many materials and entertainment system choices.
Extensive soundproofing was incorporated into the design of the Citation VII. Eight passengers and 415 pounds of baggage are able to fly comfortably, quickly, and quietly to their destination. The lavatory was even designed with passenger comfort and convenience in mind, and is able to transform into a dressing room if need be.
To this day, the Citation VII continues to be an efficient, proven performer that is a popular choice among private jet charter customers. With great range, ample speed, and a spacious cabin to complete trips between any Midwest City to either coast or a trip of New York to Miami.